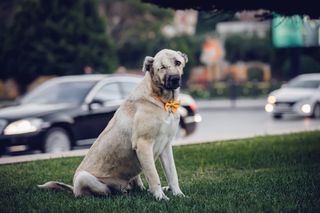 Frequently Asked Questions
Q: Who is GWARP?
A: We are a U.S. registered 501(c)(3) nonprofit organization with a dog shelter in the Republic of Azerbaijan. Animals in the Republic suffer greatly by way of animal abusers and the local government. Although we would love nothing more than to leave no dog and cat behind and provide sanctuary to all strays, we mainly focus on the most desperate cases – animals that have been burned, run over, paraplegics, dog fighting survivors, seniors, blind, and those that are severely injured or neglected.
State of Registration: New York
EIN: 84-3779390
Q:  How Many Animals Have You Rescued So Far?
A:  At this stage (November 2023) we've rescued more than 5,000 dogs, over 1000 cats, a donkey named Oscar (now deceased), 5 horses, a raccoon (released into wildlife), two owls, some foxes…and 15 bears.
Q:  How Do I Pursue a Pet Adoption?
A:  First off, thank you for considering adopting from GWARP!
Adoptable pets can be found by searching on this page: https://gwarp.org/adoptable-dogs/.  Many dogs are not listed on this page because there are so MANY.  Each day at least one dog is admitted with urgent needs, and updating the page on top of all the emergencies has become nearly impossible.  You can also email us directly contact@gwarp.org
Or send us a message on social media:
Facebook https://www.facebook.com/gwarporg/
The best option to get in touch regarding adopting is via Instagram or Facebook because photos and videos can be shared on these platforms relatively easy.
Once you have selected your dog (or cat), the process requires an application https://gwarp.org/adoption-applicationand a home inspection (can be virtual).  We will need to speak to at least two references before approval.
Q:  Do You Fly Only Healthy Pets?
A:  Many of our severe abuse and neglect cases do recover and become adoptable.  We do not fly unhealthy pets.  Our practice is to finalize all treatment in Azerbaijan before adoption.  However, there are exceptions for dogs needing prosthetics, eye surgeries and other intricate surgeries that veterinarians in Azerbaijan are unable to service. These dogs and cats can fly abroad and continue treatment in their new homeland.
Q:  Do You Work With Other Rescues For Adoption?
A:  Yes, we partner with a few different rescues in the USA and one in Canada.
Some of our partner rescues in USA have included:  Animal Hope & Wellness, Trina & Friends K9 Rescue, Rescue Angels of Southern Maryland, Legacy Rescue, Zanis Furry Friends.
Our partner rescue in Canada is Dog Tales Rescue and Sanctuary.
Q: How Can I Donate?
A:  Donate options are available on the homepage https://gwarp.org/ or https://gwarp.org/donate/.  To make a donation outside of the website, please use any of the following:
PayPal: contact@gwarp.org
Venmo: @gwarp (last four of phone # for verification: 3727)
Patreon: www.patreon.com/gwarp
Benevity: Good World Animal Rescue and Protection
Checks:
Good World Animal Rescue and Protection Inc
85 Broad Street, 18 Floor
New York, New York 10004
Wire Transfers:
If you would like to make a wire transfer please email contact@gwarp.org to get the details.
Q:  Do You have an Amazon Wishlist?
A:  We do have an Amazon wishlist that ships items to our New York office.  However, with the pandemic, shipping costs to Azerbaijan are extremely high, and it's more cost efficient to purchase dogs food and toys in Azerbaijan directly.  However, tick prevention items are always welcomed – Front Line, Seresto collars, K9 Advantix collars – which are relatively light items and have long expiration dates.
https://www.amazon.com/hz/wishlist/ls/394B05EPTTOQF?ref_=wl_share
Q:  Can I Visit The Shelter?
A:  Yes!  GWARP's shelter in Azerbaijan is open daily to visitors from 12 PM to 6 PM.  Please contact us via email contact@gwarp.org or get in touch on social media to arrange a visit.  Children of all ages are welcome.
Shelter Address:
Rafael Ceferov Street 2
Baku, Mardakan
Azerbaijan 1076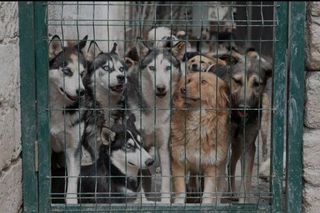 Follow All The Latest News
Subscribe to receive emails from GWARP regarding urgent cases, the latest news, and updates on animals you have donated to.
Follow GWARP on Instagram